Spring Tea -- Celebrate Motherís Day weekend
Saturday, May 11, 1 - 3 pm
---
St John's Undercroft - enter from 5th Street
---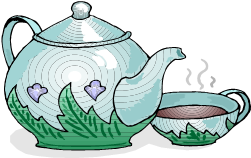 Celebrate Mother's Day weekend with a friend, child or grandchild at a wonderful Tea on Saturday, May 11th.
The tea is held from 1 to 3 pm so guests have plenty of time to socialize as they enjoy their refreshments.The tea has been held for a number of years and is eagerly anticipated by residents from around the county.
In addition to a wide choice of teas, attendees are treated to an impressive array of scones, finger sandwiches, pastries, cakes and cookies. Adults will also be offered a complimentary glass of champagne while relaxing to piano music!
The cost of the tea is $20 for an adult and $10 for children 12 and under.
($3 per glass for extra champagne)
St. John's is located at 415 South Lexington Street -- enter from 5th Street South side.
Doors will not open until 1:00 p.m.

Copy of St. John's Tea flyer in pdf format