A Christmas Pageant for All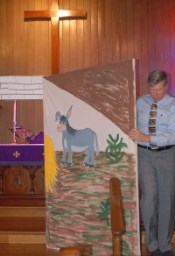 Everyone had a role at the 2013 Christmas pageant at St. John's, held during the 10 am service December 15.
Parents, like Brian Cavey at right, and some of the youth pulled together the set at the front of the church.
Maddie Harbin made angelic announcements to Mary, Joseph, and the shepherds (below left).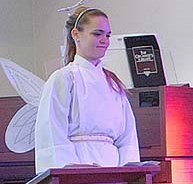 Laura Robertson expertly narrated the Christmas story (right)...........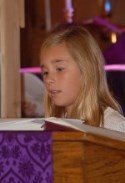 John Petrich (below) portrayed Joseph and Tina Cavey portrayed Mary............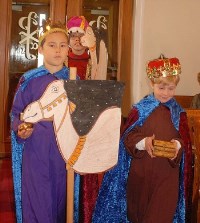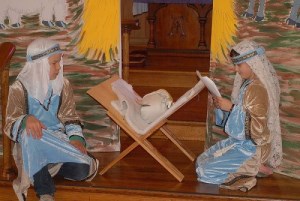 while brothers Kenji McCartney (in the back), Connor McCartney (in the middle) and Wilson Robertson portrayed the Three Kings.
The congregation took part by singing the carols that tell the story while they smiled and smiled, enjoying the singing and the performance.