Lenten Supper Speaker Looks at History of Racism in Virginia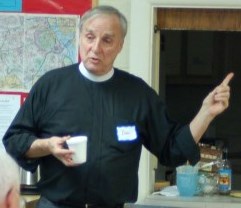 The Reverend Benjamin Campbell, who grew up in Arlington and went on to become an Episcopal priest identified with issues of social justice and ecumenism in Richmond, came home to the county the evening of March 12 to speak at St. John's Lenten supper.
His topic: Virginia's history of racism and economic discrimination, starting in colonial days, and its still-present effects in today's society. It is a subject he researched thoroughly for his recent book, Richmond's Unhealed History.
About 70 people from Episcopal churches throughout Arlington attended the supper and lecture.
"I Never Knew That"
From time to time you could hear one of the attendees comment "I never knew that" as the Rev. Campbell related less-well-known historical happenings that have played a role in shaping today's outlook on race and economic class in Virginia, particularly in Richmond. It is an outlook that is based in economics, he said, starting with the colonials, who made their livings and their fortunes first by taking Native American land, then by relying on the labor of white indentured servants (who were, for all intents and purposes, slaves), and finally by relying on the labor of African slaves.
He did not spare the churches in his speech. He pointed out that in the late 1730s and early 1740s both white and black Virginians--free and slave--participated together in the outdoor revivals of the evangelical Great Awakening and envisioned a more just society. But by the late 1800s the evangelicals, like the Anglicans before them, had "decided that any discussion of the rights and wrongs of slavery belonged in civil, as opposed to religious, discourse" (p. 81, Richmond's Unhealed History). Religion became reserved for the "more spiritual" aspects of life.
The Downriver Slave Trade
From 1800 to 1861, between 300,000 and 500,000 slaves from Virginia were sold to plantations located in the slave states further south and in the Caribbean, Campbell said. Richmond then had the second largest slave market in the United States, outdone only by New Orleans. The market was, ironically, encircled by the city's main churches.
"The strangest fact about [this] downriver slave trade, perhaps, is that it was virtually unknown in Virginia or Richmond history until the last decade of the twentieth century," the Rev. Campbell wrote in his book. "...The impact of this buried history is difficult to estimate....An interstate highway and a parking lot cover the sites, which are buried under fifteen to forty-five feet of fill and rubble. Their hidden secrets represent effectively the psyches of many who inhabit the land."
Campbell: Rooted in Arlington
The Reverend Benjamin Campbell is not the first in his family to be involved with social justice. His father was a lawyer associated with civil rights issues. His mother was head of the Arlington County School Board at the time the board decided to keep county school doors open rather thn to close them to avoid integration.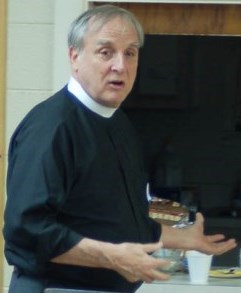 After leaving Arlington county, he studied political science and political economy at Williams College in Massachusetts. He studied theology at Oxford as a Rhodes Scholar. He received his Master's in Divinity from Virginia Theological Seminary and he was ordained as an Episcopal priest in 1966.
He ministered at three Episcopal churches and served the Diocese of Virginia, first as its communications director and then as program director. In Richmond he led two non-profit organizations, became pastoral director for the ecumenical Richmond Hill community, co-founded an association that matches faith communities with Richmond's inner city elementary schools, and became involved in other Richmond Public Schools programs. He is a member of the Richmond Slave Trail Commission.
Finishing the Series on Race, Ethnicity, and Inclusion
Campbell's speech at St. John's on March 12 was the next-to-last in a series of five Tuesdsay-night Lenten suppers and lectures organized by the Episcopal churches of Arlington, each focused on a different issue of race, ethnicity, and inclusion.
However, Arlington's Episcopal churches scheduled an additional seminar on these issues after Easter. On Friday April 12, from 7-9:30 pm, and Saturday April 13, from 9 am to 2 pm, the Diocesan Committee on Race Relations will led attendees in discussions and practical exercises that examine how issues of race and ethnicity have shaped us and how we can be transformed. The seminar was held at Trinity Episcopal Church, 2217 Columbia Pike, Arlington 22204.