Rev. Ann Barker Farewell
Rev. Ann Barker has been the Rector at St. John's for almost two decades. We are saddened to see her go but are happy that she will be able to be in a parish near her family. She will be Rector at St. Joseph's Episcopal Church in McDonough, GA.
On Sunday June 28 we gathered in a drive-by at the church to give her a send off farewell. Along with some gifts from donations from the congregation, a memory box of thank you notes, and a book of rememberence photos, we incorporated a thanksgiving prayer and proclamation during the Sunday service, which are below.
Sunday's service also included a goodbye in the style of Dr. Seuss which is at the bottom.
---
A Prayer of Thanksgiving for Our Rector of 19 Years
Holy Trinity, we the St. John's, Arlington, community give you thanks for sending us your servant Ann to be our rector, priest, and pastor at the beginning of this millennium. We thank you also for giving us the wisdom to accept your gift of all she had to offer. With her help we have individually and collectively continued to grow in your love, tried to become all we could be, and with joy accomplish all you had for us to do. Now that you have called Ann to serve you in a different community, we give you thanks for our 19 years together and pray for all the best as she ministers to their needs. All this we give in the name of Jesus Christ, our Lord and Savior.
Amen
---
St. John's Episcopal Church
Arlington, Virginia
Resolution of the Vestry
June 28, 2020
WHEREAS, The Reverend Ann B. Barker has served ably and faithfully as the Rector of St. John's Episcopal Church for nineteen years;
WHEREAS, she has kept St. John's active, engaged, and strong during a period of challenge for mainline Christian religions;
WHEREAS, she has helped us to live into our mission statement by continuously building and strengthening our spiritual community;
WHEREAS, she has kept St. John's engaged in the community around us and wisely managed parish resources by opening the building and grounds for use by two other congregations;
WHEREAS, she has reinforced our position as an inclusive congregation that affirms the fundamental humanity and equality before God of all people by supporting events such as the ringing of the church bell on August 25, 2019, in remembrance of the day 400 years before when slaves were first brought to the English colonies;
WHEREAS, she has ensured access to Christian worship and community in the face of various challenges by, for example, beginning the Ashes to Go program for those who cannot attend Wednesday services and, more recently, conducting regular services and parish activities on Zoom during the "stay-at-home" phase of the COVID-19 pandemic;
WHEREAS, she has managed a 21st Century Strategic Planning Process that has engaged the entire congregation in discerning God's purpose for us and planning how best to pursue that purpose;
WHEREAS, she is revered by the parish as an inspiring worship leader, a faithful community builder, and a beloved friend; and
WHEREAS, she now finds herself called to a new path nearer to family,
NOW, THEREFORE, BE IT RESOLVED that the Vestry of St. John's Episcopal Church thanks the Reverend Ann B. Barker in deepest gratitude for all that she has contributed to our nineteen years together and wishes her every blessing in the future. May God ever guide her on her way.
In Witness Whereof, I, Cassandra "Sandy" Winger, Senior Warden, have hereunto set my hand this 28th day of June, 2020.
---
Below we have included a few of the many from the book of photo rememberences.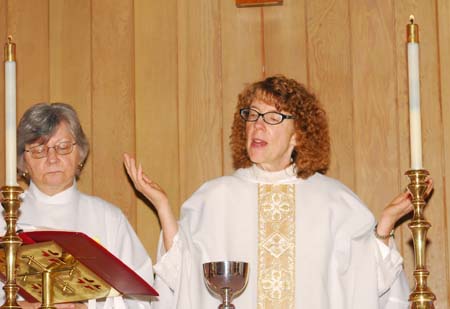 Below are a four photos from the Farewell Driveby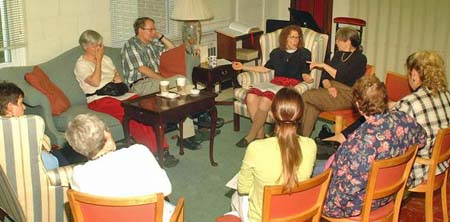 A VERSE BY ANON., A BIG FAN OF ANN,
WRITTEN FOR HER GOODBYE
There must be a moment for irrev'rent levity
In this solemn time of farewells immersion,
Sadly, I have been tasked with brevity.
So, Ann, here is the short version.
Little you knew when you came to our parish
For sermonizing and sacred goodwill,
That in fact you'd given up priestly wish
And dreams, and had come to Whoville!
So if someday you find yourself singing the blues,
Remember you can always blame it on Whos.
Now Whos will not generally do what they're told,
Nor will they ever back off an opinion.
Whos like a good tussle (in that they are bold)
And rejoice when they've vanquished a minion
Of some theological dude from the past
And, of words, their favorite is surely the last.
Whos are faithful, O yes, that is true,
Except when it comes to big bills that are due
Or vows about building maintenance stuff
(In Whoville, the lift is called unfunded "fluff").
Whos engage and sometimes find themselves critical
On issues for which the divide is political.
They do get heated -- not aloof, not remote --
And faithful Who citizens will get out and vote!
Now, no one would say Whos could star at the Met
But Whos, holding hands, sing so sweetly they'll set
You to weeping for the sheer joy of gazing
Upon them: their "Grace" is truly amazing!
In Whoville, there are few big taboos;
Pretty much anything goes with the Whos
Except racist cruelty, unkindness, intolerance, condescension,
And other evil stuff that we will not mention
For giving ear to that is not our intention
There's a focus on positives in the Ville of Who
Like "How nice that outfit is, dear – is it new?"
A Who child's intelligent, nobody's fool,
But you don't often find him in Who Sunday school;
He or she's in the protest with huge flag unfurled
You see, Who kids are out saving the world.
Whos ain't all that poor and they ain't all that rich
And they certainly don't care to discuss who is which
They figure it will all come out even eventually
Like those vineyard workers with cash consequentially.
Whos set the big table and open the door
And say it's Jesus they're doing it for.
Whos turn on the lights and ring the big bell
Anybody might turn up here – who can tell? --
It might be Elijah or even Mohammed;
In Whoville, a prophet would never be damned
For the teensiest difference in theo-nitpicking
Eat first; we'll discuss things right after fried chicken.
Whos will say: O my dear, for debate we will need 'em
But before all that stuff, let's be sure that we feed 'em!
Whos celebrate Seder and Juneteenth and Eid;
They accept all who come here, regardless of creed
Or color or lover or hairdo or gender
It was Jesus who taught Whos the hugger-extender
That made a Grinch heart grow three sizes one day
(Remember the Boing? We all said "Hooray!")
Because Jesus taught that God loves all indeed
Whos readily help any family in need
They may start out a Brit, Tennessean, Westphalian
But they end All-American E-piscopalian!
Accepting each other, accepting the stranger,
Whos are sweetly inclusive, regardless of danger
Come one and come all, that's the welcome you'll see
We know this because Whos accept you and me.
Now jammed like sardines into tiny Zoom boxes
We sit with our coffee, in pj's and soxes.
Okay, Whos from Whoville, here comes your part!
Take the hugger-extender frame from your heart
And press it against anything that could limit.
We've been months quarantined, so please don't be timit!
Whos say to Ann, if we read verse to bug you,
It's, because of COVID-19, we can't hug you
But we want you to know that Whos really will miss you
And so, with a virtual kiss, we will kiss you:
MMMMM-WAAAAH!!!
…Anon.