TShirts
St. John's Episcopal Church
Two of the areas of focus of the Strategic Planning Committee are the development of a closer relationship amount members of the parish and enhancing the recognition of St. John's as an active part of the community at large.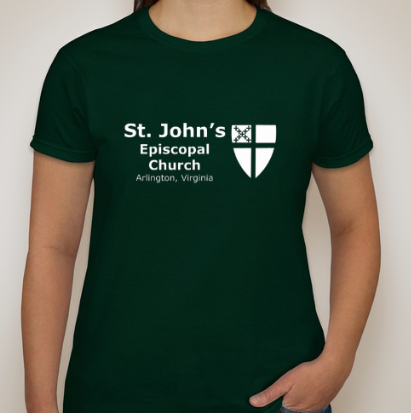 One of the ways to address recognition is to identify ourselves as members of St. John's when we undertake activities as a group. To do that we chose to design a St. John's T-shirt.
We hope many of the parish will be willing to participate and wear the T-shirt at all St. John's events.
The first event on the calendar is Glencarlyn Days on June 7-8. We would wear the shirt while working at the Hot Dog sales or while attending any event such as the Pancake Breakfast or House tours. We will also wear them at AFAC bagging, Game and Bingo Nights, Spaghetti suppers, and when we participate in Rise Against Hunger.
We will be placing the order on Tuesday May 21 and probably only be doing ONE order this year. Your cost if you order now is only $10
We are ordering Gildan Ultra Cotton T-shirts in Forest Green
from customink.com – a local firm with Better Business Bureau A+ rating.
Women's Style comes in - XS S M L XL 2XL 3XL (tapered at the waist - shown)
Adult/Men's style come in - S M L XL 2XL 3XL 4XL
Youth – comes in YXS YS YM YL YXL
Please provide the information below to treasurer@stjohnsarlingtonva.org no later than Tuesday May 21. You can pay later.
NAME _____________________ Person #1 Style / Size/ Quantity _________________
Person #2 Style / Size/ Quantity_________________ Person #3 Style / Size/ Quantity________________