Family Programs
St. John's offers family programs that build on our service work and offer new and engaging programs for youth, children, and families. Programs are offered every Sunday for children and youth ages three through high school.
---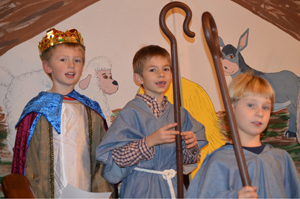 Sunday Program for Children and Youth—Every Sunday at 10 -10:30 am during the school year
First, Fourth and Fifth Sundays of the month are Exploration and Reflection Sundays. We create lessons devoted to learning about the role of the church, exploring Christianity and how it relates to other cultures, and understanding our faith community. We interweave crafts and activities to reach kids on all levels of understanding, and we will draw from the lectionary and other programs. We create engaging and thoughtful exercises and lessons and learn about elements of our worship service.
Second Sundays are Service Sundays. We assemble bagged lunches for the Bailey's Crossroads Homeless Shelter and have a brief lesson.
Third Sundays are Family Fellowship Sundays. The young people work together to make a treat for the congregation to share after the 10 am service. We create projects that encourage cooperation and collaboration and create results that the kids will be proud to share.
Other Sunday Opportunities
Middle and High School students can earn service credit for being Acolytes during our 10 am service, but children age nine and up can serve. Acolyte training is offered when the need arises. Youth are also encouraged to be readers during the service.
Continuing Education and Faith Development
While the Episcopal Church does not require instruction to take communion, St. John's offers First Communion instruction each fall. First Communion is geared toward first and second graders but is open to all and will be adapted accordingly.
Confirmation classes begin in January and continue for ten sessions (they may begin other times of the year depending on the bishop's visit. Episcopal Confirmation is aimed at early high school students who have begun to ask hard questions and are seeking to articulate and refine their faith and beliefs. We use the "Confirm Not Conform" and "My Faith, My Life" programs as our guide. Confirmation concludes with a reception service at St. John's when participants are confirmed into the church during the Bishop's annual visit.
We will explore field trips and throughout the school year. We will also explore summer trip opportunities.
For more information, contact us at familyprograms@stjohnsarlingtonva.org.