The winner and the Golden Halo for 2017 Lent Madness goes to
Florence Nightingale!
Looking for a way to add some fun to your Lenten Devotions?
Join St. John's for Lent Madness 2017!
Play along with the St. John's community and learn a little about the lives of celebrated people in church history. You don't have to be a member of St. John's to play.
The format is straightforward: 32 saints are placed into a tournament-like single elimination bracket. A new pairing opens each weekday in Lent through April 12 for people to vote for their favorite saint.
16 saints make it to the Round of the Saintly Sixteen; 8 advance to the Round of the Elate Eight; 4 make it to the Faithful Four; 2 to the Championship; and the winner is awarded the Golden Halo. The first round consists of basic biographical information about each of the 32 saints.
For biographical sketches, pick up a "Saintly Scorecard" at St. John's or click HERE for highlights from the scorecard. Details will be on the site where you vote.
To vote for your choice in the national poll, click HERE and go to the bottom of the description of the two saints.
Complete your bracket and drop it off at the church by March 12 to participate in this year's fun. The person with the bracket closest to the Winning Bracket will receive a special gift.
This year's Brackets of Paired Matchups is below. The Lent Madness Calendar is HERE.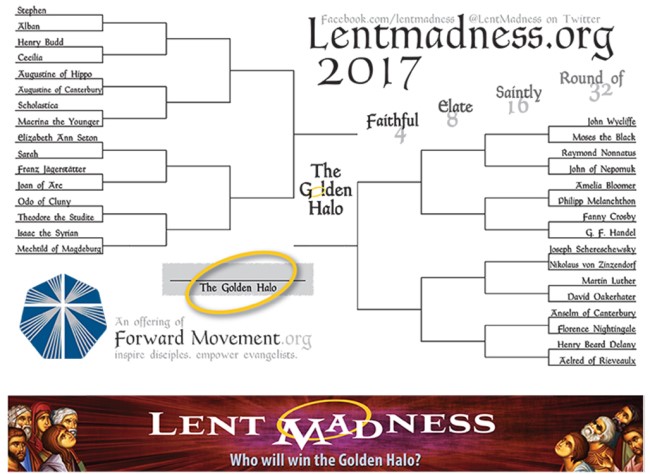 Click on the image of the bracket above to create a printable bracket.