Our Parish Life
At St. John's we celebrate our fellowship with one another and support each other in joy and sorrow. We have a rich parish life. You are invited to join in. Information on current activities is at the bottom of the page.
Celebration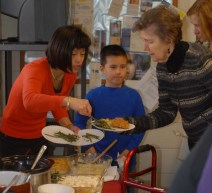 We celebrate community at our spaghetti dinner, spring tea, Shrove Tuesday pancade supper, Thanksgiving potluck (photo right), and each and every week after the 10 am service at our coffee hour. In the fall we invite family and friends to our Friends and Family Celebration (click here for pictures of this year's Friends and Family Sunday). During Lent we participate with other Arlington Episcopal churches in a series of Lenten suppers and programs.
We engage parishioners and the neighborhood with activities from Christmas caroling to a book club and intergenerational board game nights.
We celebrate holy days with special services and events: Blessing of the Animals on St. Francis Day (click here to see pictures from this year's pet blessing), a Christmas pageant and Christmas Eve services, a Loaves and Fishes service on Maundy Thursday, and an Easter egg hunt for children of the church and neighborhood at Easter.
Support
We provide Communion and companionship to ill and homebound parishioners.
We offer ongoing intercessory prayer and card ministries.
We provide spiritual enrichment and refreshment for all ages at our annual retreat at the diocese's Shrine Mont retreat center, located on the Virginia side of North Mountain.
We are ready and willing to roll up our sleeves to maintain and beautify our church--tending to our church gardens, working at spring and fall clean-up days, and pitching in wherever needed.
We are engaged in outreach to the homeless and others in need. (For more information on outreach, click here.)
How to Join In
Bagging Produce and Staples for Those in Need - Join in bagging produce and/or staples for the needy the 2nd Friday of each month from at 6:30 pm at the Arlington Food Assistance Center, 2708 South Nelson Street, Arlington. Contact Faye Pritchard at 703-931-2168 or pritchardpix@aol.com for more information. AFAC Outreach Page.
Book Club - The book club meets at 7:30 pm on the first Tuesday of each month. They read a variety of books, including fiction and non-fiction, ranging from biographies and history to science fiction stories. Most have some issue or theme that could lead to theological reflection. Discussion is lively. Coffee and light snacks are served. Upcoming reading is included in the calendar.
Family Game Night - Bring the whole family, your favorite games, and a can or box of food for the Arlington Food Assistance Center. Game nights are held periodically and everyone is invited. Check the calendar for upcoming family events. (Photos of last January's game night are on Parish Life Photo page)