About Us
Who We Are
The people of St. John's come from different backgrounds, different outlooks, and different experiences. Some of our members are the second or third generation residents of the surrounding Glencarlyn neighborhood. Some of us are newcomers to Northern Virginia who have been brought here by new jobs or the military. We include families with young children and those who have retired. We come from many walks of life--government employees of all types, of course, but also teachers, nurses, skilled workers, business people, technicians, and many others.
We come from varied religious backgrounds, too. Some of us describe our religious outlook as "orthodox" or "traditional." Some of us consider ourselves "doubters" or "seekers." But we are all joined together to seek and love God and to reach out in love to one another and the wider world.
Clergy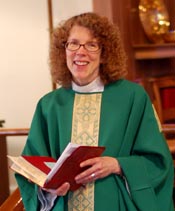 Our rector is the Reverend Ann Barker, who has served St John's since 2001. She previously served in two parishes in Columbus, Ohio. Ann is a second career priest, having come from the publishing industry. She received her M.Div. at Candler School of Theology at Emory University and her Certificate in Anglican Studies from the School of Theology at the University of the South (Sewanee).
Her vision is for St. John's to continue to be a thriving, diverse community committed to spreading the good news of God's love through inspiring worship, lifelong Christian formation, and service to others in the community, the nation, and the world.
Staff and Support
Our parish administrator is Virginia Pearson and Lynn Robinson, serves as Minister of Music. For a complete directory, please click here.
Vestry
Like other Episcopal churches, St. John's has a vestry that provides business and spiritual leadership. We are also part of the Episcopal Diocese of Virginia, the Episcopal Church of the United States of America, and the world-wide Anglican Communion. For a listing of our Vestry members, please check the directory at this link.
History
For over 120 years, St. John's has offered a welcoming, caring spiritual community not just to the people of the Glencarlyn neighborhood, where it is located, but to those who live throughout Northern Virginia and beyond. Learn more about our history by clicking here.
Newsletter: Logos
LOGOS, the parish newsletter, is published 11 times a year--every month except August. To view recent issues in pdf format click here. Logos is distributed primarily by email, but there are hard copies available. If you would like to receive copies, either by email or in hard copy, please let us know through our contact page.
Contact Us
The rector, the Reverend Ann Barker, can be reached at 703-671-6834 x22 or at rector@stjohnsarlingtonva.org. The parish administrator, Virginia Pearson, can be reached at 703-671-6834 x21 or at office@stjohnsarlingtonva.org. You can also reach them through our e-mail contact form at this link.