St. John's Lenten Program Examines History of Racism in Virginia, Attracts Close to 70 Attendees
3/19/2013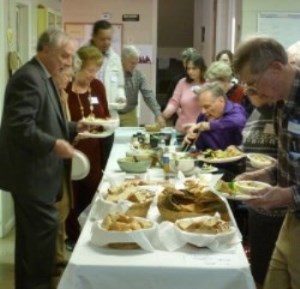 Close to 70 attendees from Episcopal churches throughout Arlington attended a Lenten supper and lecture at St. John's Tuesday March 12 to hear the Rev. Benjamin Campbell speak on Virginia's history of racism and its still-present effects in today's society. It was the next-to-last in a series of five Tuesday night suppers and lectures that the Episcopal churches in Arlington organized to focus during Lent on issues of race, ethnicity, and inclusion.
The Rev. Campbell, who grew up in Arlington, had thoroughly researched Virginia's history of racism and economic discrimination for his recent book, Richmond's Unhealed History, and he was able to relate less-well-known historical happenings that have nevertheless had profound effects on issues of economic discrimination and social justice in today's Virginia. For a more complete article on his presentation, please click here.
Continuing the Discussion with the Meet Me in Galilee Seminar
Although the Tuesday night Lenten suppers and lectures concluded March 19, parishioners from Arlington's Episcopal churches will continue after Easter to examine issues of race, ethnicity, and inclusion--and of the Christian's role in responding--at a seminar to be held Friday evening April 12 and Saturday April 13. At the seminar the Diocesan Committee on Race Relations will lead attendees in discussion and through practical exercises targeted at seeing how race and ethnicity have shaped us and how we can be transformed.
The seminar, which will run from 7-9:30 pm on Friday April 12 and from 9 am to 2 pm on Saturday April 13, will be held at Trinity Episcopal Church, 2217 Columbia Pike, Arlington 22204. No registration is required. Simply show up and participate.
---
3/13/2013
St. John's gets new Email addresses
«
previous
4/1/2013
Holy Week at St. John's--Palms, Fish, Thorns, and Resurrectiion
next
»